Fully Formulated Synthetic Engine Oil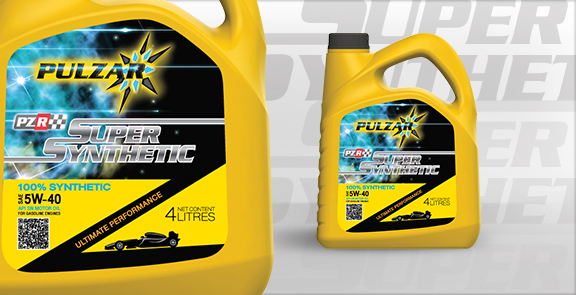 DESCRIPTION
PULZAR PZR SUPER SYNTHETIC is a fully-formulated, long-lasting, 100% synthetic gasoline
engine oil that extends the life of late-model automobiles and intervals between oil changes.
This highly-stable, versatile motor oil offers better protection than most synthetic lubricants by
performing well at high and low temperatures, in city or highway conditions, for an extended
period of time.
Base fluids of polyalphaolefin (Group IV) and ester (Group V) are blended with a
specially selected additive for maximum lubrication and engine protection. PULZAR PZR
SUPER SYNTHETIC Motor Oil meets the API SN service classification and OEM
standards for high-performance European vehicles such as Mercedes Benz and BMW.
Its SAE 5W-40 viscosity is ideal for high-traffic, stop and go driving as well as high-
speed, long-distance driving, especially in tropical climates.
APPLICATIONS
PULZAR PZR SUPER SYNTHETIC Motor Oil is recommended for high performance engines
in most late-model passenger cars. It surpasses the API service SN classification and the
European standards ACEA A3/B3-04 with SAE Grade 5W-40. It also meets performance
requirements of Mercedes Benz 229.1, VW 500/502/505 and BMW Longlife Oil.